What is a CTO?
The CTO is the most senior technology executive reporting to a non-technology executive in a Technology Creator organization that is laser-focused and purpose-built, top to bottom, to create great technology products for their Technology Consumer (in B2C, the Consumer; in B2B, usually the CIO). As Marc Andreessen famously predicted in a 2006 blog post entitled "Why Software is Eating the World", the evolution of software has created a tidal wave of new, highly profitable, and valuable technology companies where the CTO role oversees product development.
Further, creating and adopting cloud-based computing platforms have enabled Software-as-a-Service (SaaS) - the most common business model for delivering software. As Technology Consumers spend more on Cloud (Infrastructure-as-a-Service) and SaaS, the importance of the CTO as the primary leader responsible for product development and overseeing product operations has earned the CTO role a distinction as one of three primary technology leadership roles (CIO, CTO, CISO). While there are similarities between the CIO and CTO, defining them as separate roles in the context of Technology Consumer and Technology Creator organizations is a significant contribution to understanding the role of technology leadership in organizations. (For more information about the difference between a Technology Creator and a Technology Consumer, see the article titled How Technology Leadership is Defined; CIOs, CTOs, and CISOs).
What is a CTO's role within the C-Suite?
The C-suite operates one level below an organization's Board of Directors. As the most influential and important group of leaders within an organization, its primary role is to ensure that the firm stays true to its established mission, vision, values, goals, plans, and policies needed to be profitable by satisfying its core customers' most pressing needs. Since the primary role of the CTO is to drive the systems, strategies, staff, and structure needed to deliver the products and services sold by the organization, a CTO has an integral role in collaborating with other leaders such as the CEO, CFO, COO, CPO, CMO, CISO, and others to achieve the goals and objectives of the organization.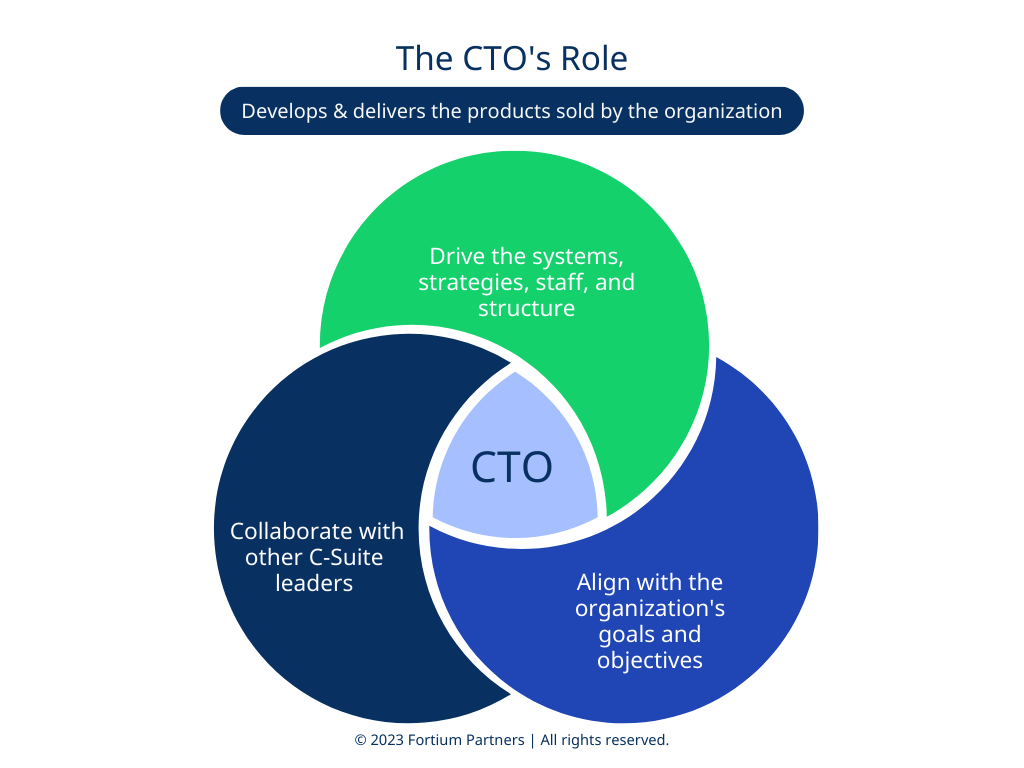 Who does a CTO report to?
As we've defined the CTO role in a Technology Creator (e.g., a SaaS company) as the primary technology leader responsible for building the organization's primary revenue driver, the CTO almost always reports to the CEO and is a peer to other members of the C-Suite. In addition to the CTO's role in building and deploying the revenue engine, the CEO often leans on the CTO, along with the Chief Product Officer, to build a business case for and rationalize the product roadmap, future sources of revenue, and spending. Finally, the CTO and the CTO's team defend against revenue threats from security or production issues. Having the CTO report anywhere other than the CEO is a strong signal that either the CTO is not a senior executive worthy of the title or there is something unusual about the structure of the organization (e.g., the CEO is primarily a Visionary and has delegated all operational authority to the President or COO).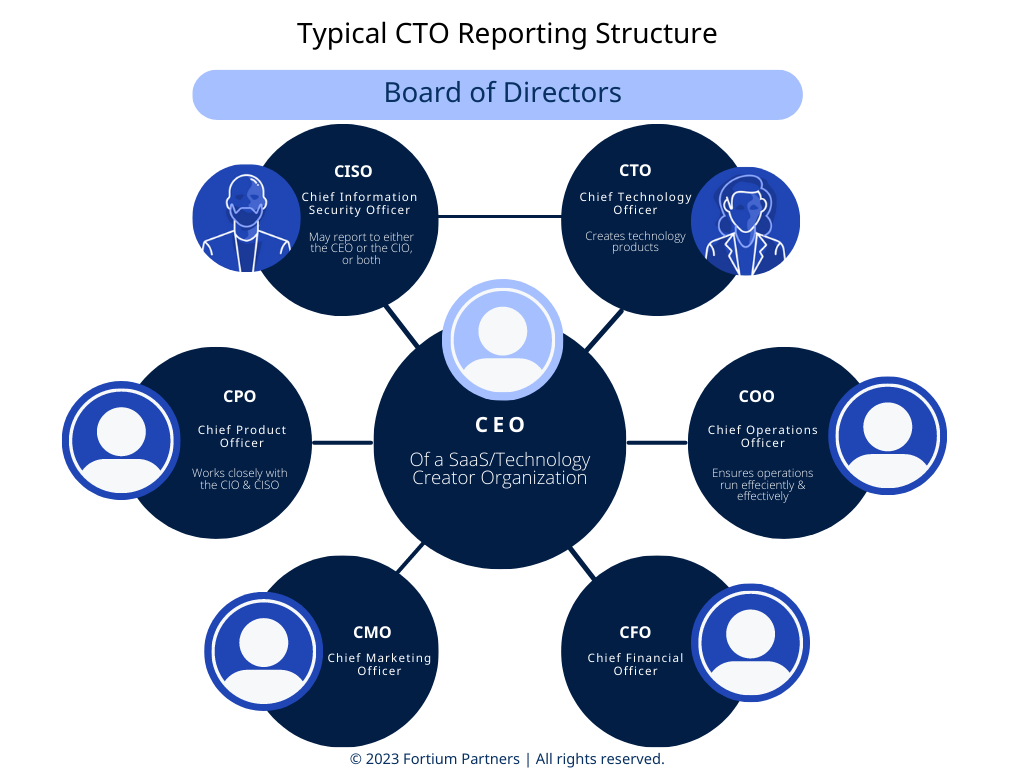 What kind of companies need a CTO?
Most companies achieve innovation through software, and commercial software companies provide the vast majority of software. Technology Creators, such as SaaS companies, need a CTO. The complexities of building a commercial software product are too great and too broad to risk not having the input and oversight of a competent and experienced CTO. The good news is that most modern software companies of size, say over $5-10M in revenue, do have a CTO overseeing the development of the product.
If a SaaS company does not have a CTO, it is usually due to one of three reasons:
The Founder or Co-Founder is the CTO. Otherwise known as a Technical Founder or Co-Founder, they may have other titles such as CEO, Co-CEO, Chief Product Officer, or COO. When this is the case, these other general management titles obscure the fact that the company has an embedded CTO. Often, these CTOs-in-disguise are much better CTOs than whatever other role their titles might suggest. If the company continues to grow, takes on new investors, and/or brings in an experienced CEO, the CTO will usually take on their appropriate title as CTO to allow the company's leadership to evolve. Interestingly, the Technical Founder often is most passionate about the initial product vision and finds the early stages of building and taking a product to market the most rewarding. It is not uncommon for the company's early Founder/CTO to lose interest or be found inadequate in the increasing management and strategy responsibility of the CTO role as it grows.

The Founder is not technical, and there is no Technical Co-Founder or an individual or small team without CTO oversight built the early product. While this approach may be sufficient to get a product to market or achieve product-market fit, the non-technical Founder often manages the increasing complexities of a commercial software product without the necessary skills and experience. Common medium- to long-term implications include:

Rising development costs without associated increases in features or mounting quality problems,

Software developers have built the product "into a corner" where poor technical decisions make progress increasingly difficult and more expensive, resulting in claims that the product needs to be rebuilt "from scratch,"

The early developer or developers become intransigent, disagreeing with the decisions made by the Founder, Board, or investors and put the company at risk by refusing to comply or even engaging in subversive activities.

The Founder or CEO is unaware or doesn't agree that the company needs a technology leader on the senior leadership team. The technology leader may be capable and experienced. Still, they are not in a senior leadership role - often reporting to the CFO, Sales, or some other non-technical role that reports to the CEO. This approach may work in the early years, most common in Founder-led or bootstrapped software companies. Still, as the company grows, it will result in dysfunctional behaviors, such as:

The technology leader (e.g., Director of Software Development, VP of Software Engineering, etc.) is effectively limited to tactical execution without input into product strategy or the ability to influence key decisions in Product Management, Finance, Sales, or Marketing. The result is (technical debt, new features without a proper foundation, and the lack of sales blamed on the product instead of Sales)

"Software culture" never really develops. The organization can't recruit the best developers, doesn't pay them well, and is unable to keep the product current so that the best developers want to work on it.

Technical innovation stalls as, ironically, the only "CTO" that would remain in a CTO role that doesn't report to the CEO may not be a CTO at all.
These three scenarios illustrate the importance of clearly and authoritatively defining the CTO role, its place in Technology Creators, and its relationship with Technology Consumers. Buyers of commercial software are increasingly outsourcing innovation and regulatory compliance to Technology Creators and expect them to have strong leadership at all levels, especially over product development. Such a company without a CTO, as we've defined here, puts its customers at risk and should be a warning sign for existing and future customers.
What are the key responsibilities of a CTO?
We learned above that the CTO is the most senior technology executive reporting to a non-technology executive in a Technology Creator organization. Yet what does the CTO actually do?
The CTO assumes a C-Suite role with shared responsibility for company strategy, product strategy, and market decisions; participates in executive team meetings and board meetings. The CTO is involved with any merger or acquisition discussions.

While Product Management is responsible for defining product features and, often, what they will look like (e.g., the "What"), the CTO is responsible for how those features are implemented (e.g., the "How"), including the architecture and technologies involved to build them.

The CTO is responsible for all the talent resources that report up to the role, including those responsible for software development, quality assurance, software build and deployment, security, process/Agile, and production infrastructure support.

The CTO collaborates with Product Management throughout the development process, playing a crucial role in estimating feature requests, prioritizing tasks for each iteration, and ensuring the successful delivery of committed features. Process metrics measure progress, evaluating the output compared to the initial commitments, the team's velocity in accomplishing work within a specific timeframe, and the quality of the deliverables. Moreover, the CTO is responsible for safeguarding the team's commitments, effectively managing shifting priorities, scope changes, unforeseen tasks, complexity underestimations, ambiguously defined requirements, and stakeholder disruptions.

In addition to meeting the functional requirements defined by the Product Management team, the CTO and their team are responsible for ensuring the product's long-term sustainability through strategic refactoring, minimizing technical debt, and prioritizing critical non-functional aspects such as scalability, performance, security, reliability, and interoperability. The ultimate responsibility of the CTO's team is to ensure the comprehensive well-being of the product throughout its entire lifespan.

As the production environment, i.e., the cloud infrastructure the product runs on, becomes an essential set of non-functional features, the CTO and their team are responsible for ensuring optimal performance, scalability, and security. Timely incident management and post-incident reviews are crucial tasks to facilitate the consistent availability and reliability of the product.

As guardians of vital intellectual property, the CTO and their team oversee many responsibilities relating to a company's source code, including version control, code review, secure coding practices, access control, and compliance with company and regulatory controls. The CTO is critical in ensuring the protection and integrity of a software company's most valuable assets.

The CTO is an all-encompassing role that encompasses business leadership beyond technical expertise. They have to be ready to lend support to their peers, ranging from Product Management to Marketing, Sales, and Customer Support, to brainstorm feasibility, discuss the technology with potential clients, identify key selling points from a technological standpoint, troubleshoot customer issues, apportion the budget for and optimize technology investments, and scope out new markets for the company's products. The CTO will likely consider exploring potential acquisitions to facilitate entry into new markets.
While the CTO holds a crucial and diverse role, it is equally important to outline certain responsibilities that should fall outside their purview. The list provided below is not exhaustive but serves as an illustration of the range of responsibilities that a Chief Technology Officer (CTO) may be assigned but could be problematic:
Product Management - While it's not unusual for a CTO to take on Product Management responsibilities (sometimes titled Chief Product and Technology Officer or CPTO), especially in smaller startups, as a company grows, it usually makes sense to separate these roles to ensure that each gets the attention and expertise it deserves. Each role has its own responsibilities, and trying to fulfill both can lead to a lack of focus and potentially suboptimal outcomes for each. The CTO/Product Manager may overfocus on non-functional features and reduce technical debt, while Product Management might advocate for prioritizing new features or improving the user experience. This tension can lead to better decisions that balance technology and product needs.

Customer Demos - While there are some good reasons a CTO may be involved in customer demos, especially in the early stages of the company, it is a best practice for SaaS companies to invest in Sales or Solution Engineering as part of the Sales team to manage customer demos.

User Interface and User Experience Design: Product Management and the CTO's team are equally responsible for the customer's experience with the product. However, Product Management is better suited to conceptualize the user experience to implement the intended features. Meanwhile, Product Development, led by the CTO, is responsible for bringing to life the design provided by Product Management. This separation of responsibilities allows each group to contribute their best skills.

Contributions to Production Source Code: A CTO needs to stay connected with the technical aspects of the company's work, including exploring new tools, languages, and coding techniques, and may include conducting proofs of concept that can inform and inspire the development team. However, the CTO must have the time and focus to handle their strategic and managerial responsibilities. A CTO with production coding responsibilities may also indicate the presence of a CTO without the seniority the company truly needs or an over-dependence on full-time leadership.

Traditional CIO Responsibilities: Software companies have the same internal technology needs as non-software companies, including end-user computing provisioning and support, non-production infrastructure such as a company's internal servers and network, and non-production applications such as accounting and HR solutions. It's common in smaller software companies to assume all technology-related responsibilities should fall under the CTO. But this is often not the best and highest use of the CTO's skills and attention. In the early stages, the combination of a virtual or fractional CIO plus a Managed Services Provider (MSP) can fill this role. Evaluating the need for a full-time Chief Information Officer (CIO) and internal technology resources may be beneficial as the company expands.

Traditional CISO Responsibilities: Similar to the software company's CIO responsibilities, it's also common for the CTO to assume the Chief Information Security Officer (CISO) responsibilities. Again, the CTO often has enough knowledge and experience to assume these responsibilities, but this is not ideal. The CISO role has a completely different set of complexities that change quickly and require constant focus to mitigate risk to Technology Creators and Consumers. The CTO has a completely full set of responsibilities that do not lend themselves well to being a security expert on top of everything else. If the company is small, combining a virtual or fractional CISO plus a Management Security Services Provider (MSSP) can fill this role. As the company grows, more resources may be available for a full-time CISO and team.

Customer Support - In most SaaS companies, the Customer Support function typically does not directly report to the CTO. Instead, it often falls under the purview of a Head of Customer Support, a Customer Success Manager, or a similar role. These positions, in turn, may report to the COO, head of Professional Services, CCO, or sometimes directly to the CEO. The CTO and their team, focused on product building and improvement, may unintentionally underestimate the significance of providing exceptional customer service for every customer interaction, even for more straightforward issues. Customer service professionals with a genuine passion for providing exceptional customer experiences are ideally suited for direct engagement with the CTO's team and Product Management. They can help research, prioritize, and consolidate customer questions and issues, ensuring an efficient work flow to the Product Development team.

Target Industry Expert - While it may be tempting to expect the CTO to be an expert in the industry served by a SaaS product, such as healthcare for medical practice management software or manufacturing for an ERP specific to manufacturing companies, the core responsibilities and attributes of a successful CTO pertain to the software industry itself, rather than any one particular target industry. The CTO role, applied across multiple industries in their career, is highly specialized and requires significant dedication to achieve and maintain. While experience in the target industry could certainly be advantageous, a CTO who is too specialized in this regard may have limited their career potential. For example, a CTO with extensive target industry experience might be less versatile than a more well-rounded CTO who has kept pace with the latest developments across multiple industries.
What are the key attributes of a successful CTO?
Despite conventional wisdom, the role of CTO does not vary considerably from one software company to the next. What does vary is the size, stage, and available technology spend of the company, any specific outcomes the CTO is charged with accomplishing, and in the case of a CTO who is not full-time, the amount of time available to dedicate to the company. But several key attributes are generally important for success in the CTO role:
Financial acuity, a command of the appropriate technology spend across the company given its size, industry, growth plans, etc.

A passion for the commercial software industry and a keen understanding of what makes a software company successful (e.g., key financial and sales metrics).

A passion for all aspects of technology related to commercial software, including understanding source code, infrastructure, performance/scaling, front-end/back-end domains, application programming interfaces (APIs), current architectural trends, tools, etc.

Considerable experience in software development as a career path - Successful CTOs often begin their careers as software developers. Still, their ambition surpasses individual creation and shifts towards building great products and successful software companies with and through others.

Achieving and staying in a CTO role - Apart from creating software companies as a Technical Founder or Co-Founder or becoming a SaaS CEO, successful CTOs tend to remain in a CTO role once they attain it. Changing career directions, such as moving to a software developer or CIO role, working for companies that are not software or software-enabled, working for a consulting company, or even starting a custom software development company, may indicate a less-focused CTO career path.

Having stature and gravitas, demonstrating conviction and articulation, is crucial when presenting to the Board of Directors and investors. It is also important to represent the company in investor due diligence, customer due diligence, and security audits and participate as an equal on the senior leadership team. Professionalism, effective communication, and polished presentation skills are key.

An exceptional understanding of the software development process, including Agile, estimation, agile metrics and KPIs, code management, check-in management, code review, quality assurance, common development tool chains, leading vendors/products in the space,

Exceptional understanding of the role of Product management and yielding to its responsibility for the "what" of the product (including UI/UX), being accountable for commitments made regarding feature development and availability (meeting estimates),

A leader and mentor of people involved in developing the company's product, understanding their roles and skills enough to hire. A leader who is unafraid to push people to be better and willing to move people out who are not healthy for the team or company.

A command of the tradeoffs of various product development staffing strategies, including onsite, remote, local, nearshore, offshore, and outsourced.

Demonstrates competence and authority to protect the product and team from influence and distraction from commitments.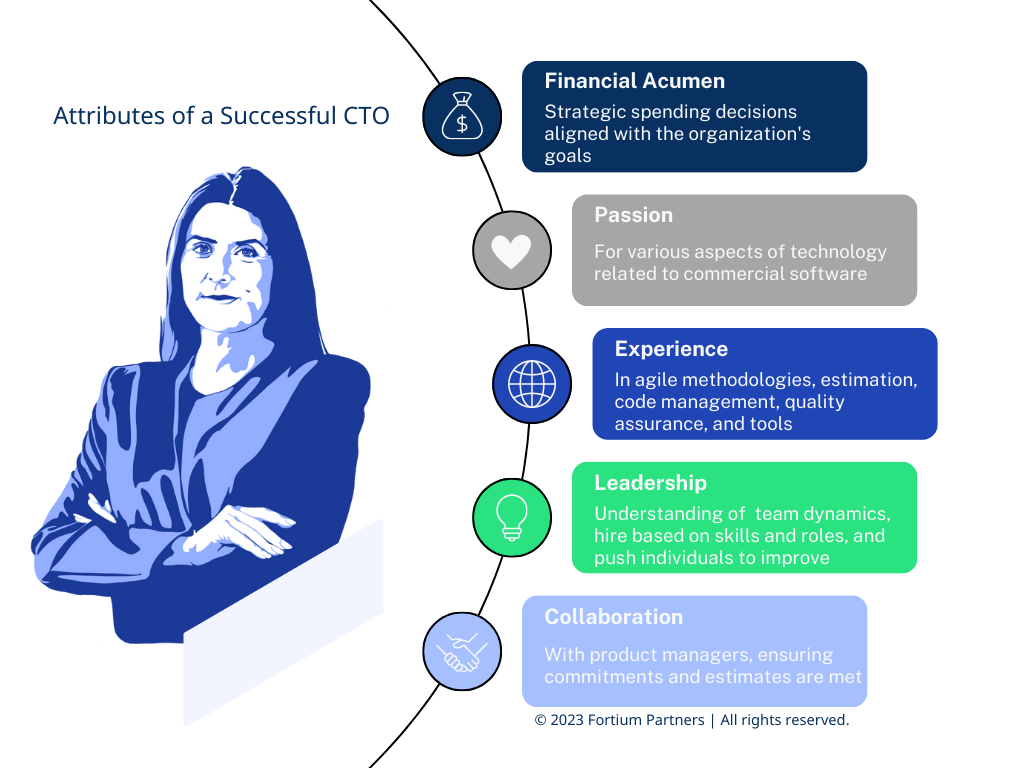 What are some alternative titles for the Chief Technology Officer (CTO) role?
The preceding sections provide a comprehensive overview of the core aspects of the CTO position. However, some use alternative titles to designate this role, such as:
Chief Information Officer (CIO) - this is probably the most common alternative title for the Chief Technology Officer. In this series, we have described the difference between these two roles as related to the types of organizations they serve. The CIO primarily serves organizations that are Technology Consumers (with less than 50% of their revenues derived from the sale of information technology). In comparison, the CTO serves primarily Technology Creators (with more than 50% of their revenues derived from the sale of information technology). We advocate for consistently defining these roles differently to clarify recruiting and hiring decisions.

Vice President (VP) of Software Engineering - the VP of software engineering title is closely related to the CTO and usually reports to the CTO. Many smaller software companies may only have a VP of software engineering, especially when the company has a technical cofounder filling the CTO role. While the CTO focuses on the broader technology strategy, innovation, and cross-department collaboration, the VP of Software Engineering focuses more on the day-to-day management of the software engineering function, including team leadership, execution, and technical expertise. There may be multiple VP of software engineering roles in larger software companies.

Lead Developer - a Lead Developer is a hands-on development role, often with additional team leadership responsibilities. CEOs of very small software companies often look to combine the CTO and lead developer roles for cost savings. As mentioned above, a CTO may continue to develop software for continuing education or proofs of concept but does not typically have a hands-on development role. Consider a virtual or fractional CTO to augment a lead developer role rather than combine them.

Technical Co-Founder - adding Technical to the Co-Founder title usually indicates that one of the co-founders is taking on the role of CTO within an organization. Combining both roles as Technical Co-Founder and CTO would be typical in these cases. The other co-founder(s) assume non-technical roles like CEO, Chief Product Officer, etc.

Chief Product Officer (CPO) or Product Manager - senior product management roles such as CPO or Product Manager may subsume the CTO role, especially if the CPO is a founder or is particularly technical, and combining the titles is done for efficiency. As mentioned above, separating these roles is recommended to allow each to focus on their unique abilities and champion different aspects of the product.

Chief Scientist - While both roles require a deep understanding of technology and science, they focus on different areas. The Chief Scientist is more concerned with scientific research and understanding the latest developments in the field. The CTO focuses on using technology to drive the company's business goals. Software companies in highly technical domains such as artificial intelligence, machine learning, and quantum computing are more likely to have a Chief Scientist. It is common for the Chief Scientist to report to the CTO.
Similarly, some use the CTO title for other roles:
Chief Information Officer (CIO) - the CIO is most appropriately used as the most senior executive responsible for technology in an organization primarily a Technology Consumer. Using the CTO role in these types of organizations leads to confusion about the nature of the role and the person who holds it.

Vice President (or similar) of Infrastructure - indicating the most senior individual in an organization responsible for computing infrastructure (desktop computers, servers, network, data center, etc.). The VP of Infrastructure role is highly technical, mainly focused on hardware (or software specifically within Infrastructure-as-a-Service), and often reports to the CIO in a Technology Consumer organization or the CTO in a Technology Creator organization.

Vice President (or similar) of Software Development (in a Technology Consumer) - Software development as a function is not limited to Technology Creators. The VP of Software Development in a Technology Consumer organization leads the software development function to build software for internal use only (e.g., not for sale) and usually reports to a CIO. While the individual responsible for software development in a Technology Creator may use the VP of Software Development title, it is more typical to use the VP of Software Engineering.

Senior Sales or Solution Engineer in a Professional Services or Custom Software Development Organization - some professional services firms or custom software development organizations prefer the title of CTO for individuals who primarily represent the sales/business development function, engaging with prospects and clients (typically in Technology Consumer organizations) to propose technology solutions. While these individuals possess technical expertise and may have previously held the CTO title, using the CTO designation in this manner can create confusion during recruitment and hiring processes. In reality, the typical buyer of these services is often the CTO (or their team) in a Technology Creator organization or the CIO (or their team) in a Technology Consumer organization. To minimize confusion and promote clarity, we suggest using titles such as Sales Consultant or Solution Engineer when referring to these positions.
Stay tuned for Part 2 of A CEO's Guide to Hiring a CTO, which will include the following topics:
What are the most pressing challenges hiring a CTO solves?

What are the Top 3 priorities of a CTO?

What are some of the organizational situations or needs that drive the need for a CTO?

What experience, spend, and availability are required?

What are the hiring approach options?

How does the CEO make a final selection for a CTO?
Enjoyed the blog? Click here to download the e-book version of "The CEO's Guide to Hiring a CTO (Part 1)".